Welcome to Radar Remote Sensing
Have you ever asked yourself how it is possible to estimate earthquake hazards or to forecast volcanic eruptions?
Would you like to know how to measure the movement of glaciers with centimeter accuracy?
Or do you wonder how much forest we have left on our planet?
Synthetic Aperture Radar (SAR) provides a powerful tool to give answers to these and many other scientific questions.
We kindly invite you to join the exciting world of microwaves and radar satellite technology for the purpose of observing our dynamic Earth. We are addressing, on introductory and advanced levels, both lecturers and students who are intrigued by satellite derived radar imagery and want to learn more about its acquisition, processing, and application.
Willkommen in der Radarfernerkundung
Haben Sie sich jemals gefragt, wie sich Erdbeben und Vulkanausbrüche vorhersagen lassen?
Möchten Sie lernen, wie man die Bewegungen von Gletschern mit einer Genauigkeit im Zentimeterbereich messen kann?
Interessiert es Sie, wie viel Wald es noch auf unserer Erde gibt?
Synthetische Apertur Radar (SAR) bietet ein leistungsstarkes Werkzeug, um Antworten auf diese und zahlreiche andere wissenschaftliche Fragen zu liefern.
Wir laden Sie herzlich ein, in die spannende Welt der Mikrowellen, Radarsatelliten und Erdbeobachtung einzutauchen. Unser Angebot richtet sich an Anfänger und Fortgeschrittene und steht sowohl Lehrenden als auch Lernenden zur Verfügung. Lernen Sie interessante Details über die Akquise, Prozessierung und Anwendung von Radarbildern.
Bienvenue chez le observation par radar
Vous vous avez jamais demandez comment on peut prédire des séismes ou des éruptions volcaniques?
Voulez-vous apprendre comment on peut mesurer le mouvement des glaciers avec une précision de centimètres?
Vous vous demandez combien de forêts sont restées sur terre?
Le Radar de l'aperture synthétique (SAR) vous offre un outil performant pour répondre à ces questions et beaucoup d'autres du domaine scientifique.
Nous vous invitons de plonger dans le monde passionnant des micro-ondes, des satellites de radars et de l'observation de la terre. Nous adressons des enseignants et des étudiants, au niveau débutant et avancé, qui sont fascinés par d'images radars et qui veulent apprendre plus sur l'acquisition, traitement et utilisation.
Bienvenido a la Teledetección por Radar
¿Alguna vez te has preguntado cómo es posible estimar la peligrosidad sísmica o pronosticar erupciones volcánicas?
¿Te gustaría saber cómo medir el movimiento de los glaciares con una precisión centimétrica?
¿O te has preguntado alguna vez cuanta es la cantidad de bosque que nos queda en nuestro planeta?
El Radar de Apertura Sintética (SAR) proporciona una poderosa herramienta para dar respuesta a estas y a otras muchas preguntas científicas.
Le invitamos a que se una al apasionante mundo de la tecnología de microondas y satélites radar con el propósito de observar nuestro dinámico planeta. Nos dirigimos, en niveles de iniciación y perfeccionamiento, tanto a profesores como a estudiantes que están intrigados por imágenes de radar obtenidas de satélites y quieren aprender más acerca de su adquisición, procesamiento y uso.
欢迎来到雷达遥感的世界
你自己有没有想过这样一个问题,是否可以通过一定的方法使自己可以预测地震的来袭和火山的爆发?
你是否愿意了解怎么来测量冰川的运动哪怕它仅变化了1厘米?
又你是否想知道究竟还有多少森林还矗立在巍巍地球?
合成孔径雷达技术 (SAR) 给我们提供了一个强有力的工具去解决这些问题和其它很多的科学关切.
这里,我们向你发出一个真挚的邀请来探索这个由微波和雷达卫星为基本技术手段的学科来观察我们不断变化的地球.
Добро пожаловать в дистанционное зондирование земли с помощью радара
Спрашивали ли вы себя, как возможно оценить риск землетрясения или спрогнозировать извержение вулкана?
Хотели ли бы вы узнать как измерять движения ледников с точностью до сантиметра?
Или вы хотели бы узнать сколько леса осталось на нашей планете?
Радар с синтезированной апертурой (SAR) является мощным инструментом, дающим ответы на эти и многие другие научные вопросы.
Мы приглашаем вас присоединиться в захватывающий мир микроволн и радарной спутниковой технологии в целях мониторинга нашей динамичной планеты. Мы обращаемся к преподавателям и студентам, на начальном и продвинутом уровнях, которые заинтересованы в работе со спутниковыми радарными снимками и желают узнать больше об их получении, обработке и применении.
Radar ile uzaktan algılamaya hoş geldiniz
Daha önce kendinize hiç deprem tehlikesinin ya da volkanik patlamaların önceden nasıl tahmin edilebileceğini sordunuz mu?
Santimetre hassasiyetle buzulların hareketlerinin nasıl ölçüldügünü bilmek ister misiniz?
Ya da gezegenimizde ne kadar ormanlık alan kaldığını mı merak ediyor musunuz?
Sentetik aralıklı radar (SAR) bu ve benzeri bilimsel sorulara cevap alabilmeniz için güçlü bir araç niteliğindedir.
Sizleri dinamik olan Dünyamızı gözlemlemekte kullanılan mikrodalga ve radar uydu teknolojilerinin heyecan verici dünyasına katılmak için çağırıyoruz. Uydu ile çekilmiş radar görüntüleri ile ilgilenen, özellikle görüntülerin çekim, işleme ve uygulama tekniklerini öğrenmek isteyen başlangıç ve ileri düzey, öğrenci ve öğretim görevlilerini davet ediyoruz.
Witamy w świecie teledetekcji radarowej
Czy kiedykolwiek zastanawiałeś się, jak można oszacować skutki trzęsienia ziemi albo przewidzieć erupcję wulkanów?
Czy chciałbyś wiedzieć jak mierzyć ruch lodowców z centymetrową dokładnością?
Lub czy ciekawiło Cię jak duża powierzchnia lasów pozostała na naszej planecie?
Teledetekcja radarowa (SAR) stanowi potężne narzędzie, za pomocą którego można znaleźć odpowiedź zarówno na powyższe jak i inne pytania naukowe.
Zapraszamy do przyłączenia się do ekscytującego świata mikrofal oraz radarowej technologii teledetekcji satelitarnej, w celu monitorowania naszej dynamicznie zmieniającej się planety. Proponujemy Ci materiały, na poziomie wstępnym i zaawansowanym, zarówno dla wykładowców jak i studentów, których intryguje radarowa teledetekcja satelitarna oraz chcą poszerzyć swoja wiedzę na temat pozyskiwania, przetwarzania i zastosowania zobrazowań radarowych.
Echoes in space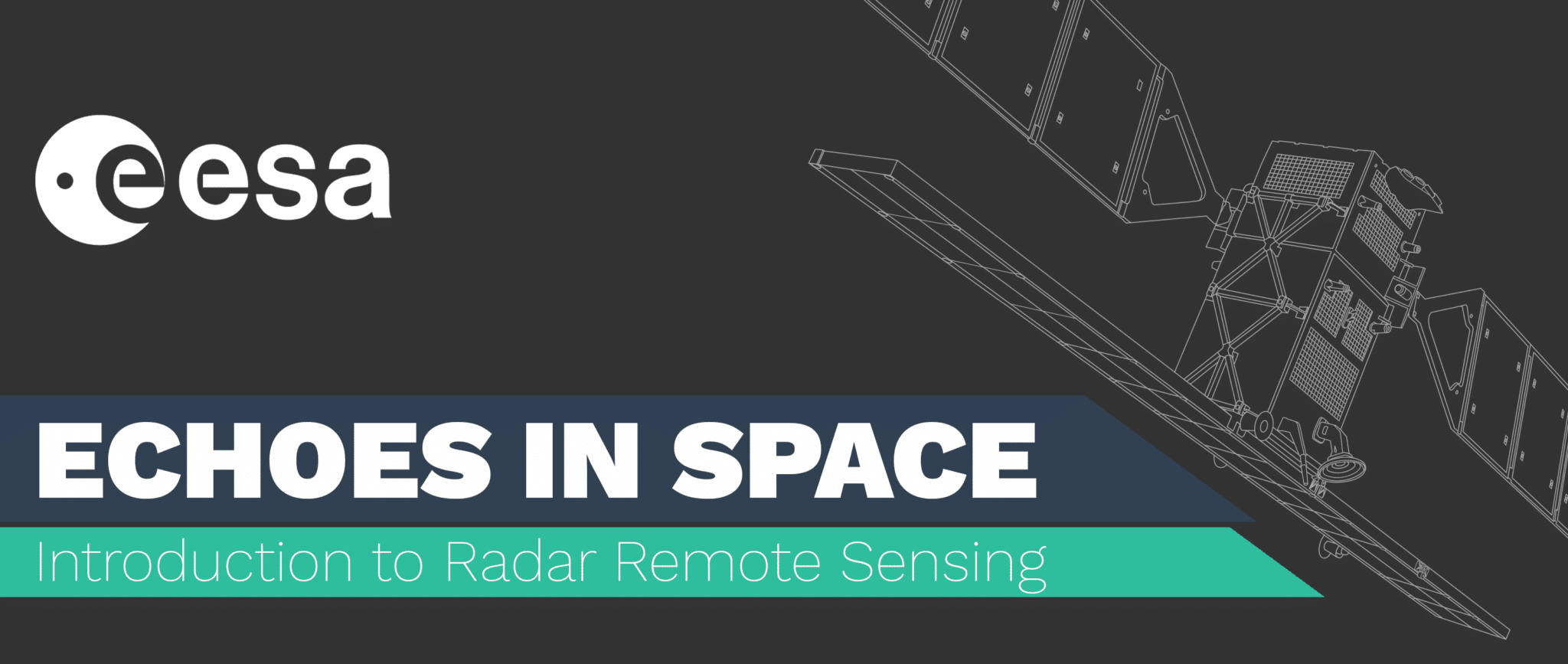 Register now for the first Massive Open Online Course on Radar Remote Sensing, developed by SAR-EDU in collaboration with the European Space Agency (ESA). The online course is open to anybody and will introduce the history, the basics and various fields of application of SAR satellite data. The course will have its first live run in October2017 and span over five weeks.